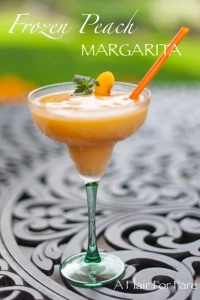 Summer time is margarita time. So as the weather starts to heat up, cool yourself with something cold, delicious and refreshing. This perfectly peachy cocktail from Martha Stewart is frosty and fabulous.
Frozen Peach Margarita
from marthastewart.com
Ingredients
1 package (16 ounces) frozen sliced peaches
3/4 cup tequila
1/4 cup triple sec
1/4 cup fresh lime juice (from 3 limes)
1/4 cup sugar
1 cup ice cubes
Directions
Puree frozen sliced peaches, tequila, triple sec, fresh lime juice, sugar, and ice cubes in a blender or Vita-Mix until smooth. Serve in your favorite margarita glass. Garnish with fresh mint and a peach slice if desired.
Makes 4 drinks