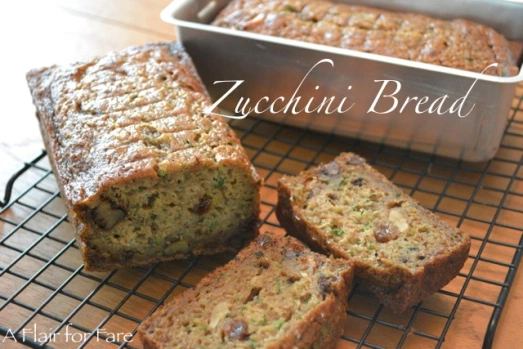 An all time favorite that never gets old. Perfect at breakfast time or with afternoon tea.
Classic Zucchini Bread
3 eggs
1 cup vegetable oil or 1 cup applesauce
1 ½ cups sugar
3 medium zucchini, grated and well drained (2 cups)
2 tsp vanilla
2 cups sifted flour
½ tsp baking powder
2 tsp baking soda
3 tsp ground cinnamon
1 tsp salt
1 cup raisins
1 cup chopped walnuts
Beat eggs lightly in a large bowl. Stir in oil (or applesauce) sugar, zucchini and vanilla.
Sift flour, baking powder, baking soda, cinnamon and salt onto wax paper. Stir into egg mixture until well blended; stir in raisins and nuts. Spoon batter into two well greased 8 x 5 x 3 loaf pans or three 8 x 4 x 2 loaf pans.
Bake at 375 for 40 minutes for the 8 x 4 x 2 pans or 1 hour for the 8 x 5 x 3 pans (test with a toothpick). Remove from pans and cool completely.