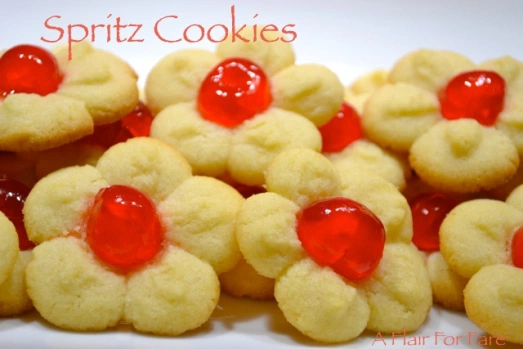 Spritz Cookies
This pressed cookie is a Christmas classic. Beautifully delicate, buttery, melt in your mouth deliciousness. Use a variety of disks for an impressive display on your cookie tray.
The following recipe came with my 70's WearEver Super Shooter cookie gun. How's that for a blast from the past? That was a fun toy for many years but it is long gone and a traditional cookie press has taken it's place.
Ingredients:
1 cup butter, softened to room temperature
3/4 cup sugar
3 large egg yolks
1 teaspoon vanilla
1/8 teaspoon salt
2 1/4 cups all purpose flour
Directions:
Preheat oven to 400 degrees.
Using a stand mixer, beat butter, gradually adding sugar until light and fluffy. About 5 minutes.
Add egg yolks, vanilla and salt and beat well.
Add flour in 3 additions, mixing well after each addition. Dough will be stiff.
Fill cookie press, following manufacturers directions, using desired disk.  Press onto cold, clean cookie sheet. Do not use non stick pans, parchment or a silpat; the dough will not stick.  Space cookies about 2 inches apart.  Decorate with candied fruits, nuts or sprinkles.
Bake 8 minutes or just until edges start to turn a light golden brown. Let cool on pan for several minutes, then carefully remove. Complete cooling on a wire rack.
Makes 6-7 dozen cookies.