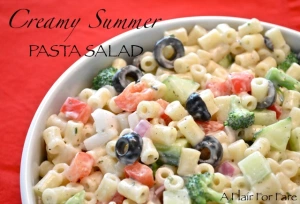 What are three of my favorite pastimes? Summertime, grilling time, pasta salad time. This creamy pasta salad is reminiscent of that old time classic macaroni salad, with the flavors kicked up. Great with ribs, chicken, burgers or fish.
Creamy Summer Pasta Salad
adapted from Barefeet in the Kitchen
Yield: 6 servings
For the salad you will need:
8 ounces Tubetti or any short tube pasta
1 cup broccoli florets cut into very small pieces
1/2 cup diced cucumber
1/2 cup small diced red pepper
1/2 cup sliced black olives
1/4 cup very thinly sliced green onion or chopped red onion
 For the Dressing you will need:
1/2 cup light real mayonnaise
2 teaspoons white wine or champagne vinegar
1/2 teaspoon kosher salt
1/2 teaspoon freshly ground black pepper
1/2 teaspoon sugar
1 teaspoon Penzeys Fox Point Seasoning (optional)
This recipe only yields 6 servings, so if you are feeding a big crowd you will want to double the recipe.
Bring 2 quarts of water to a boil in a 3 quart saucepan. Add Tubetti with one tablespoon kosher salt and cook as directed on the package.
Add broccoli to the pasta for the last 30 seconds of cooking. Remove from heat and drain in a colander.  Rinse well with cold water to stop the broccoli from cooking.
To a large mixing bowl, add your dressing ingredients and whisk vigorously. Pour the cooked pasta and vegetables over the prepared dressing and toss well to combine. Adjust seasonings as desired. Cover and refrigerate for at least an hour before serving.
Note: Fox Point Seasoning is a mixture of salt, dried shallots, chives, garlic onion and green peppercorns that adds delightful flavor to vegetables, poultry, fish and salads. If you don't have a Penzeys store near you, you can find it at penzeys.com