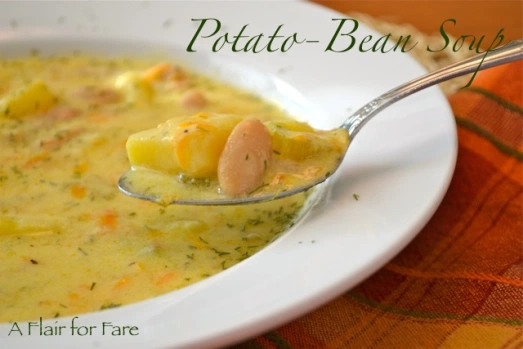 Warmer weather is on it's way and soon we'll be saying goodbye to soup season. Here's one you will want to try before cold weather comes to an end.
Potato-Bean Soup
from Better Home and Gardens Soups and Stews Book
Ingredients:
2 medium carrots, shredded (1 cup)
1/2 cup sliced celery
1 clove garlic, minced
1 tablespoon butter
4 cups chicken broth or stock
3 cups cubed, peeled potatoes
2 tablespoons snipped fresh dill or 2 tablespoons dried dill weed
1 15 ounce can cannellini beans or great northern beans, rinsed and drained
1/2 cup dairy sour cream or plain non-fat yogurt
1 tablespoon cornstarch
Salt and pepper to your taste
Directions:
Over medium heat, sauté carrots, celery and garlic in butter until tender, 4-5 minutes. Add chicken stock, potatoes and dill. Bring to a boil, then lower heat and simmer covered until potatoes are tender, 20-25 minutes. Mash half of the potatoes, then stir in the beans.
In a small mixing bowl, combine the sour cream and cornstarch; stir into the soup mixture. Cook until thickened and bubbly. Add salt and pepper to your taste. Serves 4-6.