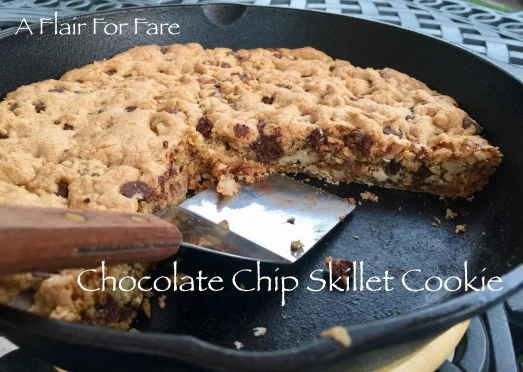 Chocolate Chip Skillet Cookie
(Martha Stewart)
When you have that craving for a chocolate chip cookie, but no time for multiple pans and clean up, this is the answer to your chocolate craving prayers. One bowl, one pan, less mess! Serve warm from the skillet with a scoop of vanilla ice cream and you will be in chocolate chip cookie heaven.
You will need:
A ten inch cast iron skillet
6 tablespoons unsalted butter at room temperature
1/3rd cup packed dark brown sugar
1/2 cup granulated sugar
1 large egg
1 teaspoon vanilla extract
1 cup all purpose flour
1/2 teaspoon baking soda
1/2 teaspoon kosher salt
1 cup semi-sweet or dark chocolate chips
1 cup chopped walnuts (optional)
Preheat your oven to 350 degrees. With a wooden spoon, combine butter and sugars in a large mixing bowl until smooth. Mix in egg and vanilla extract. Add in dry ingredients and mix until well combined. Add in chocolate chips and walnuts. Cookie dough will be thick.
Add dough to your skillet and press in evenly. Bake 18-20 minutes, until golden. Cool for about 5 minutes. Cut into wedges and serve warm.