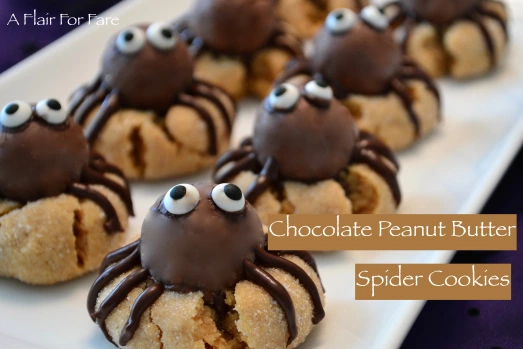 Here's another cute variation on the Peanut Butter Blossom cookie. I adapted the idea from A Spicy Perspective, but used my favorite Betty Crocker blossom cookie recipe.
Chocolate Peanut Butter Spider Cookies
You will need:
1 (14 oz.) can sweetened condensed milk
3/4 cup creamy peanut butter
2 cups Bisquick biscuit mix
1 teaspoon vanilla extract
1/3 cup sugar
24 truffle candies, unwrapped
3/4 cup semi-sweet chocolate chips
48 small candy eyes (Wilton makes these and Michael's also has an off-brand in their stores in the fall)
Pre-heat oven to 375°F.
Place unwrapped truffles in the freezer.
Beat sweetened condensed milk and peanut butter in large bowl until smooth.
Add biscuit mix and vanilla; mix well.
Roll into 1 1/2 inch balls. Roll in sugar. Place 2 inches apart on un-greased baking sheets.
Bake for 5 minutes, remove and press a cavity for the truffle in the middle of each cookie. Return to oven and bake for another 2-3 minutes, until lightly browned on the bottom. Remove from oven, and press in center again if needed. Transfer to a wire rack to cool until almost room temperature. While cookies are cooling, melt chocolate chips in a glass container in the microwave, at 30 second intervals. Stir until smooth. Transfer to a piping bag or squeeze bottle.
Remove truffles from freezer and place into cavity of each cookie. If cookies are too cool and truffle does not stick, you can use a dab of melted chocolate to "glue" the truffle if needed. Pipe 8 spider legs on each cookie, starting at the bottom of the truffle. Pipe a dot of chocolate on the back of each candy eye and "glue" to truffles. Let cool completely until chocolate is set. Store in a covered container.
Recipe makes 2 dozen cookies.