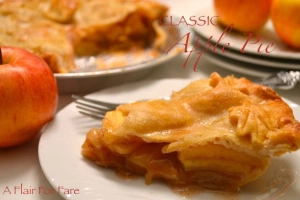 Classic Apple Pie
Cooler temps, falling leaves, fresh picked apples. Apple pie time. This recipe is so simple and so delicious!  Who wouldn't love a flaky crust full of sweet apples and spicy cinnamon.  Save on time with a pre-made crust.
This 8 inch version is the perfect size for a small group.
Ingredients
7 medium-small Fuji or Honey Crisp apples
1 lemon
1/2 cup sugar
3/4 teaspoon cinnamon
1/4 teaspoon nutmeg
3 tablespoons flour
Prepared double pie crust
1 egg
8 inch pie plate or tin
Directions
Preheat oven to 350 degrees
Prepare pie crust; your favorite recipe or store bought pre-made brand. Add bottom pie dough to pie plate and trim to fit. Save trimmings.
Peel, core and thinly slice apples. Add to medium sized glass mixing bowl. Squeeze juice from lemon onto apples and toss well. Add sugar, cinnamon, nutmeg and flour. Mix well to coat.
Pour apple filling into prepared pie pan.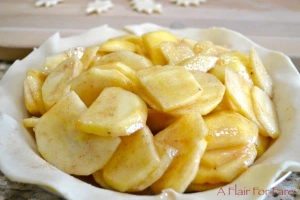 Carefully lay top pie dough over filling. Trim to fit.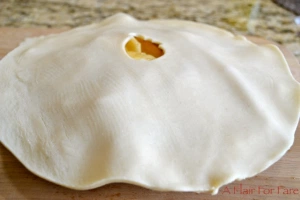 Fold top dough edge under bottom dough edge and pinch to flute or crimp with fork. Cut slits or a circle of dough from the center to allow steam to escape. Beat egg and a tablespoon of water in small bowl. Brush egg wash over pie dough.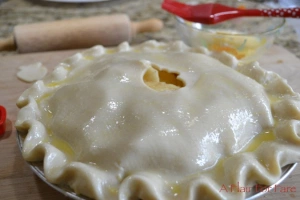 Optional – press dough trimmings into a ball. Roll out on lightly floured board. Cut out leaves, use paring knife to score. Arrange on top of pie and brush with egg wash.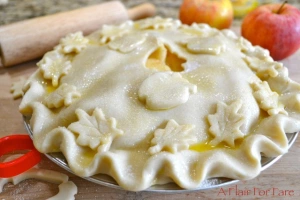 Move pie plate to cookie sheet. Place in oven and bake until golden; 45-50 minutes. Watch closely and loosely cover with a sheet of aluminum foil if needed to prevent over browning.
Remove from oven and move to wire rack to cool. Serve slightly warm with vanilla ice cream. Serves 6.