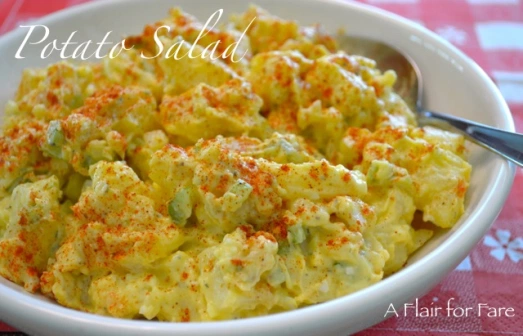 If there is one dish a southern girl needs in her repertoire, it's potato salad. It's just a must have; right up there with cornbread dressing and pecan pie. Growing up in a small southern town in the 60's and 70's, potato salad was always homemade. Why, that would be a sin to buy it from a deli, and honestly, I don't believe delicatessens existed in Fairhope, Alabama back in those days. It's a staple at picnics, barbecues and church luncheons. And when you move up north with that potato salad recipe, why you become the hit at every summer party. It will be that one dish everyone wants to you bring to pass. And they just can't believe you actually made that potato salad. Why would you go to all that trouble when you are surrounded by delis just full of potato salad? And then they taste it and wish they had that recipe, because, well, deli potato salad just doesn't measure up – and never will for this southern girl.
Now, southern potato salad is not an exact science. I've never actually written down a recipe until now. It's one of those things that's just in your head. You tweak it as you go; add a little more of this and that, until it tastes just right.  But since I wanted to share this phenomenon with you all, I mean, with y'all,  I just had to take the time to measure and take notes. Because after all, it is just more fun to share.  Now say good bye to that nasty deli salad and get a taste of the real thing. Enjoy!
Potato Salad
Serves 8-10
Ingredients:
8-9 medium yukon gold potatoes
3/4 cup diced celery
3/4 cup diced white or sweet onion
3 hard boiled eggs, peeled and chopped
1 1/4 cup mayonaise
1/4 cup yellow mustard
1 teaspoon Dill
Kosher salt
Fresh ground pepper
Paprika
Directions:
Try to choose potatoes that are equal in size so they cook evenly. Scrub potatoes well. Add potatoes to a large saucepan and cover with water. Bring to a boil, turn down the heat, cover and simmer for 15 minutes. Potatoes should be barely tender when pierced with a sharp knife. Remove the pan from heat, leave covered and let potatoes continue to cook in the hot water for another 10 minutes. Test again for doneness and remove from pot when tender. The smaller potatoes will cook faster, so remove those that are tender and leave the larger potatoes for another 5 minutes or until done. Let potatoes cool until warm and easier to handle. (The potatoes will absorb the mayo and mustard better if warm).
Carefully peel potatoes; the skin on Yukons is thin, so you should be able to scrap it off easily. Cut into quarters, then slice into 1 inch pieces. In a large mixing bowl, add potatoes, celery, onion and eggs. Carefully fold to combine. Add mayo and mustard and and stir until mixed well. If not moist enough to your liking, add more mayo. Add dill weed, salt and pepper to taste. Move salad to a nice serving bowl, sprinkle with paprika, cover and chill for a couple of hours before serving.