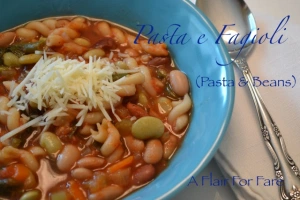 Summer has ended and fall weather is nipping at it's heels. Cooler days and nights are beckoning for hearty autumn fare.
This thick, flavorful soup is all that and more. Abundantly rich with vegetables and pasta this traditional italian dish is hearty and comforting; the ideal meal for the cool nights ahead. Salad and crusty warm bread make the perfect sides. And let's not forget a glass of your favorite vino.
Pasta e Fagioli (Pasta and Beans)
adapted from "All About Pasta & Noodles" by Irma
Ingredients:
2 tbsp extra virgin olive oil
1 medium onion, finely chopped
1 small carrot, peeled and finely chopped
1 medium celery stalk with leaves, finely chopped
2 tbsp packed finely chopped fresh parley
2 large cloves garlic, minced
One 14 oz can crushed whole tomatoes with juice
One 15 to 19 oz can cannellini, great northern or pinto beans, rinsed and drained
2 cups vegetable stock
1 cup (1 inch) pieces green beans
1 cup small frozen lima beans
2 cups packed (1inch) pieces escarole, curly endive, or swiss chard, washed and dried
1 cup elbow or shell macaroni
Salt and ground black pepper
¼ cup grated pecorino cheese (or parmesan)
Directions:
Heat olive oil over medium heat in a large soup pot. Add onion, carrots, celery and parsley and sauté until vegetables are soft, 10-15 minutes.
Add in garlic and stir for one minute. Stir in tomatoes and bring to a boil. Add beans and stock and simmer for 10 minutes. Next add escarole, endive or chard. Cover and simmer low for 5 minutes. Add pasta and salt to taste. Continue to simmer until pasta is tender, 10-15 minutes. Season with salt and pepper to your taste. Ladle into serving bowls and top with grated cheese.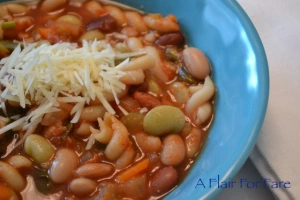 Serves 8 as a first course,  4 as a main course.