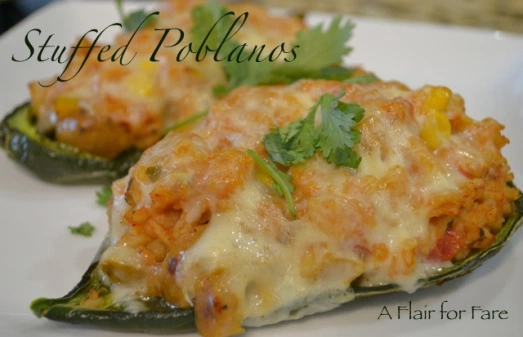 The peppers in my garden are gorgeous and plentiful this year. This dish is one of our favorites, so I was excited when the poblanos were ripe and ready to pick. It's a delicious and easy recipe, so mix up a batch of margaritas and start cooking!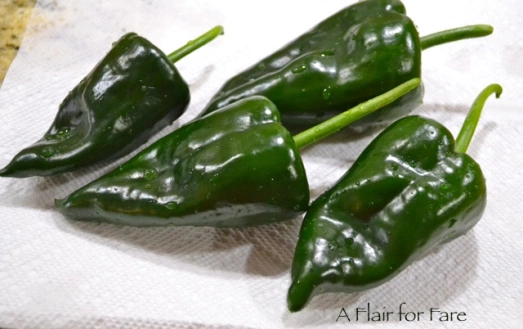 Stuffed Poblano Peppers ( inspired by a recipe from TheLittleGSP.com)
Ingredients
6 large poblano peppers
4 cups grated Jack or Cheddar cheese (or combination of)
1- 12 ounce package (4 links) of your favorite spicy sausage (such as al fresco Spicy Jalapeño chicken sausage)
chopped cilantro for garnish
Mexican Rice (recipe follows)
Mexican Rice ( inspired by a recipe from Spicy Southern Kitchen)
Ingredients
2 tablespoon olive oil
2 cloves garlic, minced
1 onion, diced
1 cup basmati rice
1 (8-ounce) can tomato sauce
2 cups vegetable broth
1 cup frozen corn kernels
1/2 teaspoon chili powder
1/2 teaspoon cumin
Kosher salt and freshly ground black pepper, to taste
2  medium sized tomatoes, diced
2 tablespoons chopped fresh cilantro leaves
Directions
Saute onions in a large skillet over medium heat. When onions are translucent, add garlic and stir for a minute. Stir in rice and continue stirring until toasted, about 5 minutes.
Add tomato sauce and vegetable broth. Stir in corn, chili powder and cumin. Cover and simmer low until rice is cooked through, about 15-20 minutes. Stir in tomatoes, add salt and pepper to taste. Set aside.
Wash and dry peppers. Slice lengthwise so peppers will lay flat. Remove seeds and ribs. Line a large cookie sheet pan with foil.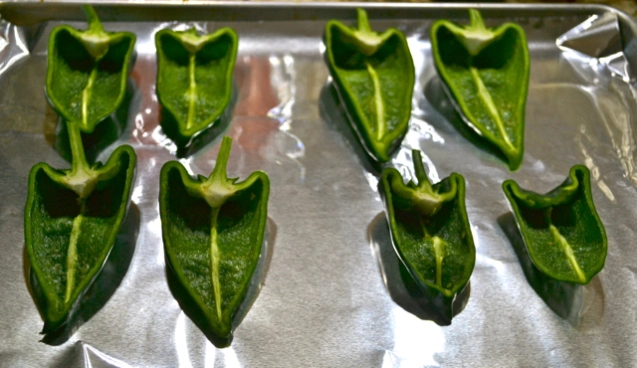 Turn oven on to broil. Place peppers on cookie sheet and put them under the broiler for about 5 minutes or until they start to soften and blacken slightly. Check them often.  Remove from oven and set aside. Turn oven down to 375 degrees.
Cook sausage according to package directions. Cool and cut up into bite size pieces.  Mix with rice. Generously fill each pepper half with sausage and rice mixture. Top with grated cheese.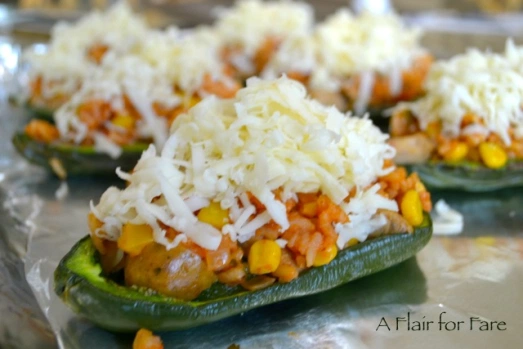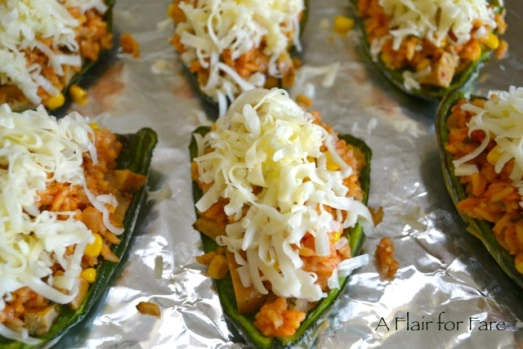 Bake in oven 15-20 minutes until cheese is melted and golden.  Serve with black beans, chips and salsa. Serves 6.