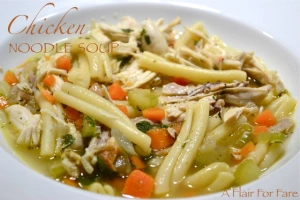 Have a chill or feeling down? Forget that nasty canned soup. This recipe is so simple, you'll never look back. Made with a store bought rotisserie chicken or left overs from your own roasted chicken, this soup will cure what ails you, or at least make you feel so good you'll think it did.
Chicken Noodle Soup
Ingredients:
1-32 ounce box plus 3-14.5 ounce cans chicken broth or stock
1/2 cups chopped parsley
1- two pound rotisserie chicken
1 1/2 cups chopped carrots
1 cup thinly sliced celery
1 teaspoon italian herb seasoning
2 cups pasta noodles (I used Casarecce)
Salt and pepper to taste
1 tablespoon grape seed or olive oil
Directions:
Skin and de-bone chicken. Shred meat or chop into bite size pieces.
Heat oil over medium heat in a large soup pot. Sauté vegetables until soft. Add broth and italian seasoning and simmer for 5 minutes.
Add pasta and cook according to directions for al dente.
Add chicken and parsley, simmer 5 more minutes. Add salt and pepper to taste.
Ladle into bowls and serve.