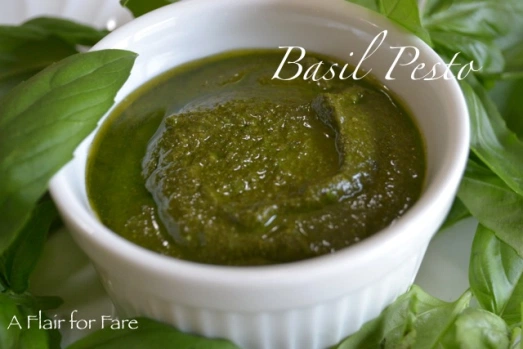 I love using pesto on pasta, pizza and sandwiches. It's a healthy, delicious sauce with fabulous flavor. My garden is once again overflowing with this beautiful, fragrant herb so I took a little time out of my day and made a batch. I freeze it so I can enjoy it all year round. It's so easy to do!
Basil Pesto
2 cups fresh basil leaves packed
3/4 cup freshly grated parmesan cheese
3 teaspoons fresh minced garlic
1/2 cup extra virgin olive oil
1/3 cup pine nuts or chopped walnuts
Salt and pepper to taste
Most recipes call for a food processor, but I used my Vitamix blender. Here are directions for both.
If using a Vita Mix:
Add first 5 ingredients to Vitamix container and secure lid. Turn machine on and slowly increase speed, using tamper to mix ingredients and press into blade. Blend for 30 to 60 seconds until well blended. Add salt and pepper to your taste.
If using a food processor:
Add basil and nuts to the bowl of a food processor and pulse several times. Add garlic and parmesan and pulse several more times. Scrape down the side of the bowl with a rubber spatula. With the food processor running, slowly add olive oil and blend until well combined. Scape the sides of the bowl again and add salt and pepper to your taste.
If not using immediately, pour into airtight container. Drizzle a small amount of olive oil on top. Cover with plastic wrap, then secure lid. Store for up to one week in refrigerator, or freeze for up to 9 months.