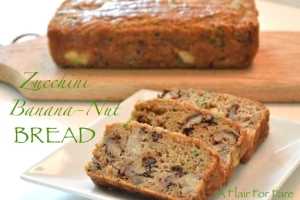 It's the last hurrah for zucchini from my garden so I've paired it up with sweet, ripe bananas for another fabulous variation on this moist and delicious snack bread.
Zucchini Banana-Nut Bread
adapted from recipe by Averie Cooks
You will need:
1 large egg
1/2 cup light brown sugar, packed
1/3 cup applesauce
1/4 cup granulated sugar
1/4 cup  sour cream
2 teaspoons vanilla extract
1 cup all-purpose flour
1/2  teaspoon baking powder
1/2  teaspoon baking soda
1 1/2 teaspoons cinnamon
pinch salt
1 cup grated zucchini (about 1 large or 2 small)
1 cup mashed ripe bananas (about 2 medium-large bananas)
1/2  cup chopped toasted walnut
Preheat oven to 350F. Spray one 9×5-inch loaf pan or two 8x4x2 inch loaf pans with Pam for baking; set aside.
Toast walnuts in a dry sauté pan over low heat. Stir often 4-5 minutes, being careful not to burn.
Grate zucchini, place in colander and squeeze out most of the liquid.
Add first 6 ingredients to a large mixing bowl. Whisk well to combine.
Next, add flour, baking powder, cinnamon, soda and salt. Carefully fold or stir just until combined.
Fold in mashed bananas, zucchini and toasted walnuts.
Pour batter into prepared pans.
Bake for 40- 50 minutes for 8×4 pans; 50-60 minutes for 9×5 pan. Baking times always vary due to differences in moisture content of the zucchini and bananas and accuracy of oven temperature so watch your bread and check for doneness.
Cool in pans for 10-15 minutes, then remove from pans and finish cooling on a wire rack. Bread is best if eaten in a couple of days. Save a loaf for later by wrapping in cellophane, then foil and freeze. Thaw and warm slices in the microwave.