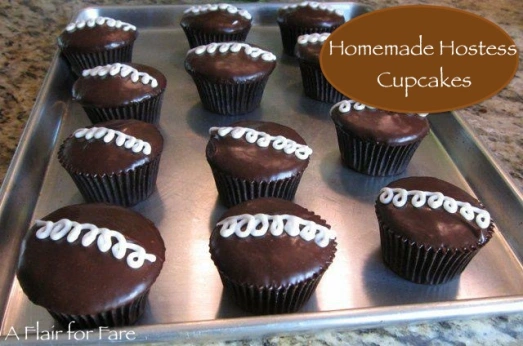 This has to be one of my most requested cupcakes. They not only look fun and fabulous, but taste so much better than the store-bought version. If you cannot find the brown wrappers in the store you can order them online.
Homemade Hostess Cupcakes
For the cupcakes
Hershey's Deep Dark Chocolate Cake recipe:
1 and 3/4 cup unsifted all purpose flour
2 cups sugar
3/4 cup Hershey's cocoa
1 and 1/2 teaspoons baking soda
1 and 1/2 teaspoons baking powder
1 teaspoon salt
2 eggs
1 cup milk
1/2 cup vegetable oil
2 teaspoons good vanilla extract
1 cup boiling water
For the filling:
4 tablespoons unsalted butter, at room temperature
1 cup powdered sugar
2 teaspoons pure vanilla extract
3 tablespoons heavy cream
1 cup marshmallow creme
Transfer filling to a decorator squeeze bottle or piping bag fitted with a filling tip.
For the Ganache
6 ounces bittersweet chocolate, chopped
1/2 cup heavy cream
1 tablespoon unsalted butter
2 teaspoons pure vanilla extract
Heat chocolate and cream in a glass bowl over a pot of hot, but not boiling water until smooth.
Add butter and vanilla, cool slightly
For the Swirls
Following the package directions, carefully microwave a cup of Wilton White Candy Melts. Transfer to a decorating squeeze bottle.
Directions:
Combine dry ingredients in a large mixing bowl. Add remaining ingredients except boiling water; beat at medium speed 2 minutes
Remove from mixer; stir in boiling water (batter will be thin)
Using a quarter cup measure or ice cream scoop, fill cupcake tin lined with brown wrappers, 3/4 full.
Bake at 350 degrees for 15-17 minutes; test with a toothpick
Remove from pans; cool completely. Fill cupcakes. Dip top of cupcake into the ganache, cool in refrigerator until set. Top with 7 swirls, by piping melted Wilton white candy coating from a decorator squeeze bottle.