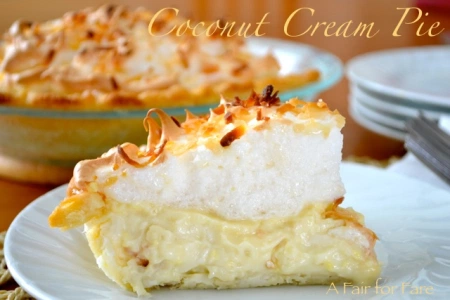 I find anything made with coconut to be simply irrestisible. This pie reminds me of the coconut pudding pies my Mother made during the holidays. Crowned with an old fashioned meringue topping, the custard is made using cream of coconut  which puts this sweet, creamy dessert over the top.
Double Coconut Cream Pie
from Better Homes and Garden Magazine
For the filling you will need:
3 egg yolks
1/3 cup sugar
1/4 teaspoon salt
1/4 cup cornstarch
2 cups milk
3/4 cup cream of coconut
3 beaten eggs
2 tablespoons butter
1 cup flaked coconut
2 teaspoons vanilla
1 baked pie shell
For the meringue you will need:
3 egg whites
1/2 teaspoon vanilla
1/4 teaspoon cream of tartar
1/3 cup sugar
2 tablespoons flaked coconut
Separate 3 eggs and bring egg whites to room temperature for 30 minutes.
Prepare and bake pie shell.
Make filling. In a medium saucepan combine sugar, cornstarch, and salt. Whisk in milk and cream of coconut. Cook, stirring constantly, over medium heat until thickened and bubbly.
Temper the egg yolks by stirring in about 1 cup of the hot milk mixture into the beaten egg yolks. This prevents the eggs from cooking when they meet the hot milk mixture. Add back to the saucepan.
Continue cooking and stirring until bubbly. Remove saucepan from heat. Add butter and mix until melted. Mix in 1 cup coconut and 2 teaspoons vanilla. Pour hot filling into baked pastry shell.
Make meringue. In a large mixing bowl beat egg whites, 1/2 teaspoon vanilla, and cream of tartar on medium speed of an electric mixer until soft peaks form and tips curl. Gradually add in 1/3 cup sugar, beating until stiff peaks form. Top filling with meringue and spread evenly, sealing edges. Sprinkle with 2 tablespoons coconut. Bake in a 350 degree oven for 15 minutes. Cool for 1 hour on a wire rack. Cover and chill 3 to 6 hours before serving. Makes 8 servings.
Note: if you can't find Cream of Coconut in the baking aisle, check the liquor section of your store.