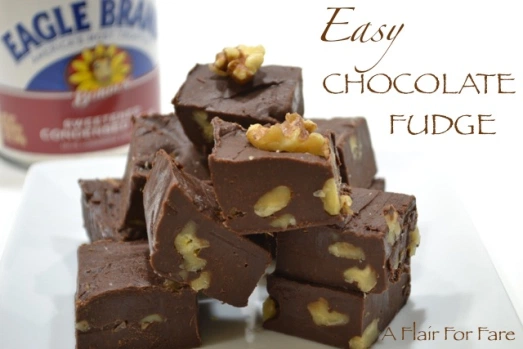 You won't find a quicker, easier way to make the perfect fudge than with this recipe from Eagle Brand. So creamy, with just the right amount of sweetness. I like to add walnuts for that added crunch.
Easy Chocolate Fudge
from EagleBrand.com
Ingredients
3 cups (18 oz.) semi-sweet chocolate chips
1 (14 oz.) can Eagle Brand Sweetened Condensed Milk
Dash salt
1 1/2 teaspoons vanilla extract
1 cup chopped walnuts (optional)
Instructions
Line a 9-inch pan with  aluminum foil, leaving a 1 to 2 inch overhang. Butter the foil.
Melt chocolate chips with sweetened condensed milk and salt in a heavy saucepan over medium low heat. Remove from heat; stir in vanilla and nuts. Spread evenly in prepared pan.
Chill for 1 to 2 hours or until firm. Remove from pan by lifting edges of foil; remove foil and cut into squares. Store is a tightly covered container.