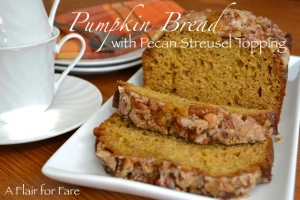 Halloween is over and Tom Turkey will soon be on our table. It's the time of year when we crave pumpkin spice –  in lattes, pies, muffins and breads. This lighter version from Cooking Light, is spicy and moist, without being heavy with oil. Topped with  a delightfully sweet and crunchy pecan topping, all you need is a cup of coffee or tea for the perfect afternoon snack.
Pumpkin Bread with Pecan Streusel Topping
recipe from The Best of Cooking Light
Topping Ingredients:
1/2 cup chopped pecans
2 tablespoons sugar
1- 1/2 tablespoons chilled butter cut into small pieces
1/4 teaspoon group cinnamon
Bread Ingredients:
2 cups all purpose flour
1/2 cup sugar
1 teaspoon baking soda
1 teaspoon salt
1/2 teaspoon ground cinnamon
1/2 teaspoon ground cloves
1/2 teaspoon nutmeg
1 cup canned pumpkin (not pie filling)
1/2 cup plain low-fat yogurt
1/2 cup honey
1/4 cup vegetable oil
1 teaspoon vanilla extract
2 large eggs
Cooking Spray
Directions:
Preheat oven to 350 degrees. Spray 9 x 5 inch loaf pan with a cooking spray such as Pam.
In a small mixing bowl, combine topping ingredients until crumbly. Set aside
To a large mixing bowl, add dry ingredients and whisk to combine. In a separate bowl, mix pumpkin with yogurt, honey, oil, vanilla and eggs. Make a well in the center of the dry ingredients and add wet ingredients. Stir just until well combined.
Pour batter into prepared loaf pan. Sprinkle with pecan topping.
Bake for 50-60 minutes or until a wooden toothpick inserted into the center of bread comes out clean. Cool in pan 10 minutes, then remove and complete cooling on a wire rack.  Store tightly covered for up to 3 days.