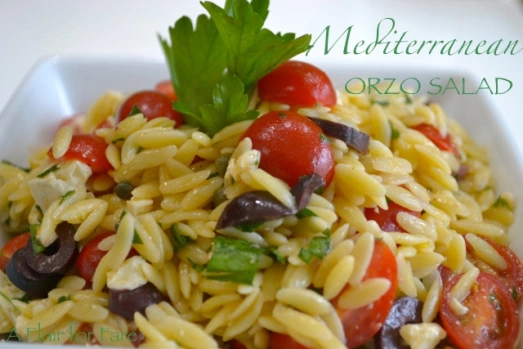 It's a damp, wet day here in Chicago,  but the calendar says May 1st and I'm more than ready for something grilled up and served with a sumptuous, summer salad.  Today I'm paring this lovely, lemony orzo dish with a succulent grilled salmon, marinated with the same lemon dressing used in the salad.
Mediterranean Orzo Salad
(adapted from recipe by Iowa Girl Eats)
Ingredients
6 oz dry orzo pasta
1-1/2 cups grape or cherry tomatoes, sliced in half
1/4 cup pitted kalamata olives, sliced
1/2 cup crumbled feta cheese
1/4 cup chopped parsley
2 Tablespoons capers
For the Lemon Dressing:
1/4 cup lemon juice
1/2 teaspoon each kosher salt and freshly ground pepper.
1 teaspoon honey
1 clove garlic
1/2 cup extra virgin olive oil
Pasta Directions
Cook pasta according to package directions for al dente. Drain in a colander then set aside to cool a bit. You want the pasta to be slightly warm when you add the dressing so it will absorb well.
Prepare the Lemon Dressing:
In a mini food processor add lemon juice, salt, freshly ground pepper, honey and garlic.  Do a taste test and add more salt and pepper to your liking but be careful with the salt –  the salad contains capers and olives, which will be salty as well.
In a medium sized bowl, add cooked pasta with remaining ingredients. Toss with half of the dressing then taste. Add more as desired.   This salad can be served immediately at room temperature or refrigerated and served cold. Makes about 6 servings.