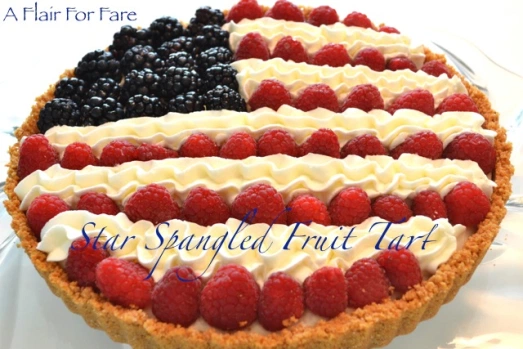 Perk up your 4th of July picnic with some patriotic flair. This easy, no bake fruit tart will wow your guests and leave them asking for more.
Star Spangled Fruit Tart
For the Crust:
Combine 1 3/4 cups graham cracker crumbs with 4 tablespoons sugar and ½ cup melted butter. Press into 10 inch tart pan. If using a 9 inch pie plate, follow the directions on the graham cracker crumb box. Bake at 350 degrees for 10 minutes.
For the Filling;
1 – 8 oz package cream cheese, softened
1 can sweetened condensed milk
1/3 cup fresh lemon juice
1 tsp vanilla
1- 1 1/2 packages fresh blackberries (about 20 berries)
2 1/2 packages fresh raspberries (about 45 berries)
Directions:
Beat cream cheese at medium speed until fluffy. Gradually beat in sweetened condensed milk. Add lemon juice and vanilla. Pour into cooled crust. Refrigerate at least 3 hours or until set. Once set, arrange fruit on top to resemble a flag. Pipe whipped cream in between rows of raspberries.
For the whipped cream:
Pour 1 cup chilled heavy whipping cream to the bowl of an electric mixer fitted with a whisk attachment. (for best results, chill the bowl and the beater before using). Add 1 tablespoon sugar. Start on low and gradually increase speed to medium high. (8 on a KitchenAid stand mixer) The cream will start to thicken and soft peaks will form. Continue until the cream stands in stiff, sharp peaks. This only takes a few minutes; watch the cream closely and do not over whip.