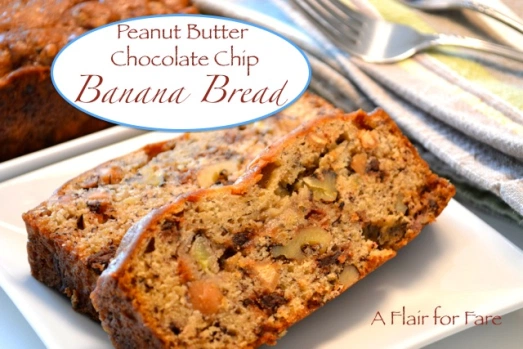 Trying to decide the best way to describe this banana bread, and my husband says that YUM pretty much sums it up. As if perfectly moist, sweet, banana bread wasn't yummy enough, adding peanut butter and chocolate chips takes it to a whole new level. Serve it slightly warm and enjoy every gooey, peanut buttery, chocolatey, banana bite!
Peanut Butter- Chocolate Chip Banana Bread
Ingredients:
1/3 cup melted butter
4 ripe mashed bananas
3/4 cup sugar
1 egg, beaten
1 teaspoon vanilla extract
1 teaspoon baking soda
Pinch salt
1 1/2 cups all-purpose flour
1/2 cup chopped toasted walnuts
3/4 cup Reese's peanut butter chips
3/4 cup semi-sweet chocolate chips
Directions:
Preheat oven to 350 degrees F.
Spray a  9 x 5 loaf pan with cooking spray (Pam).
In a large mixing bowl, use a heavy duty spoon or spatula to combine butter with the mashed bananas. Fold in sugar, egg and vanilla. Add baking soda and salt and mix in. Add the flour, mix until it is just incorporated. Fold in the chopped walnuts, peanut butter and semi-sweet chocolate chips. Spread evenly in loaf pan,  Bake for 50 minutes. Cool in pan for 5 minutes then remove and move to a wire rack. Slice while still slightly warm and enjoy!