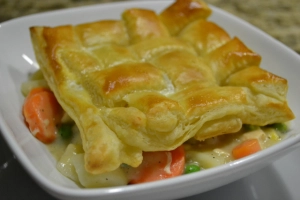 The winter weather here in the western suburbs of Chicago is, shall we say, a tad colder than where I come from.  I recall growing up in L.A. (Lower Alabama),  playing volleyball in the front yard on Christmas day, wearing shorts and a T-Shirt. So it "tickles" me when I see a Facebook post  complaining about the "cold" weather back in Bama. I guess it's all relative, right? One girl's 30 degrees is another girl's 7 below zero. And since that's the kind of weather we are all having lately, I  thought it would be good for the first recipe I share to be tummy warming comfort food. So let's talk about Chicken Pot Pie.
I start getting those cravings for fall soups and fare around mid October, when the leaves start to change and there's a little nip in the air. Chicken Pot Pie is one of my husband Wes's favorites, and because I enjoy making his tummy, you know, happy, happy, happy- it's one of the first fall recipes I like to make. Sometimes I'll make it as an actual pie, baked in the oven, which is great if you're having company or want leftovers  (no, Wes, you can't have a 3rd piece). Here's a version I make just for the two of us. It has only a top crust, made from puff pastry, which is baked separately. The cooked filling goes into individual bowls with the pastry on top. It's a very nice presentation (hence, the flair), which I'm all about. You eat with your eyes first you know.  This will make 2 large portions or 4 medium portions. Hope you like it.
Ingredients for about 4 cups of filling:
1 ½ cups cooked chicken breast cut into cubes
¼ cup butter
1/3 cup flour
1/3 cup chopped onion
1 teaspoon salt
1/3 teaspoon pepper
1 teaspoon Herbs de Provence
1 ½ cups chicken broth
½ cup milk
1 1/2 cups frozen mixed vegetables
1 medium potato, pre-cooked and cubed
1 package frozen puff pastry
1 egg
The night before, following the directions on the package, thaw the puff pastry in the refrigerator. Thaw one sheet for 2 servings, or both sheets for 4 servings.
Roast the chicken. I find this method to produce a more  flavorful, and moist chicken breast than boiling. Take one large chicken breast, (bone in and skin on), place it on a foil lined sheet pan. Brush the chicken with olive oil,  and season with salt and pepper and Herbs de Provence.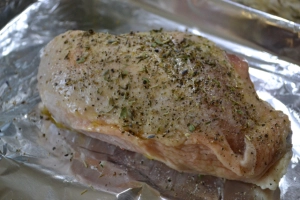 Roast in a 350 degree oven for about 45 minutes, until the skin is crisp and lightly browned. Roasting time will vary depending upon the size of your breast (I'm referring to the chicken, here, of course). Use a instant read thermometer if you are unsure.  The chicken should be cooked to an internal temperature of 165 degrees, which is a safe minimum internal cooking temperature according to food safety.gov.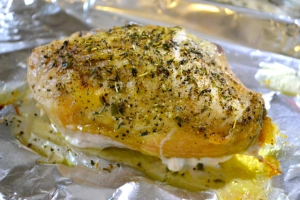 Let the chicken rest until cool enough to handle. Remove skin and shred or cut into bite size pieces.
Cook the potato. You can bake in the oven or microwave just until tender, but still firm. Cool and dice.
In a medium saucepan, melt the butter over medium heat. Add onion; cook until tender, about 2 minutes. Stir in flour, salt and pepper. Cook stirring constantly for about 3 minutes until the flour mixture is bubbly.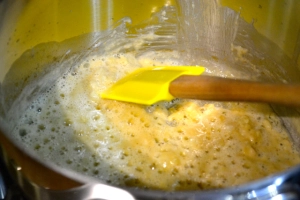 Stir in the broth and milk. Heat until bubbly, stirring constantly. Stir in chicken and vegetables until heated through. Keep warm while you prepare the pastry.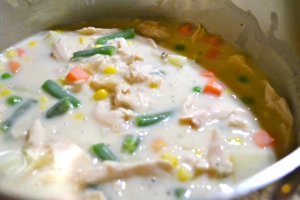 Make an egg wash.  Crack one egg into a bowl and add a teaspoon of water. Beat egg and water.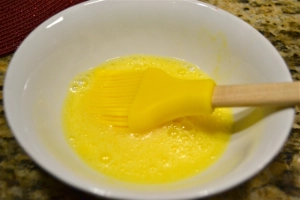 Carefully unfold one of the puff pastry sheets on a lightly floured board. Gently press at the seams. Using a pastry wheel or sharp knife, cut length wise into 10 strips.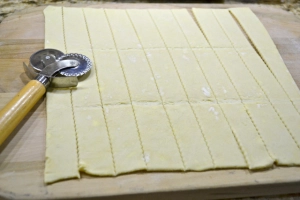 Cut those strips in half so you have 20 strips.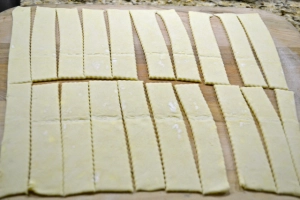 On a sheet pan lined with parchment paper, place 5 strips, about a 1/4 inch apart.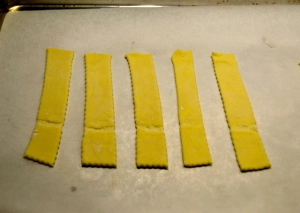 Weave 4 more strips into a basket weave pattern. (over, under, alternating rows). Repeat with the remaining  strips (you will have 2 strips left over).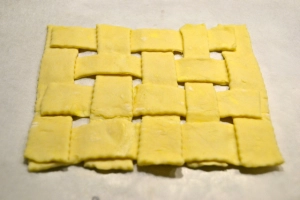 If you are making 4 servings, repeat this process with the second pastry sheet. Brush with egg wash and sprinkle with Herbs de Provence or dried thyme.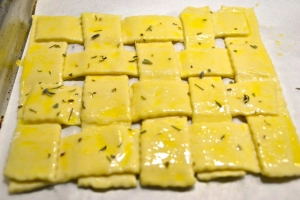 Bake in a 400 degree oven until puffed and golden, about 15 minutes.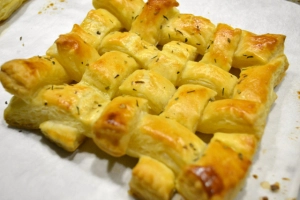 Divide mixture into  serving bowls. Top each bowl with puff pastry and serve.
If you prefer to make this recipe into a pie, you will need a double pie crust instead of the puff pastry. Place the bottom pie crust into a 9 inch pie plate. Spoon the prepared filling into the crust, place the second crust on top and flute the edge. Cut 4 slits in the top and cover the edges of the crust with foil to prevent over browning.
Bake for 35 to 40 minutes at 425 until crust is golden brown.