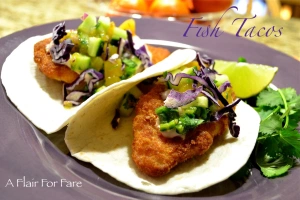 Fish tacos are certainly nothing new, but it's taken me a while to warm up to the idea. Fish on a taco? Didn't seem right. My husband raved about them and ordered them on a regular basis whenever we were out at our favorite Mexican restaurant. Me- I always stuck with my usual tostada. This went on for years until I decided to give them a try. So I made them, and fell in love. Why did I wait so long? Now I'm hooked. It's an amazing combination of flavors – crunchy fish, spicy chipotle cream and cool mango salsa that will give your tastebuds a kick in the butt. Wash it down with an icy margarita and OH MY GOODNESS. Awesome.
I use a frozen beer battered cod. Pop them in the oven for 20 minutes and they're done. You can certainly use any mild white fish that you prefer.
Fish Tacos with Mango Salsa and Chipotle Sour Cream
(Makes 8 tacos)
1/2 cup Sour Cream
Chipotle Salsa or Chipotle Hot Sauce
2 Limes
2 cups Shredded Red Cabbage
Mango Salsa (recipe follows)
8 or more Frozen Beer Battered Cod Fillets (use 2 per serving if fillets are small)
8 – 6 inch Flour Tortillas
Cut one lime into 8 wedges. Use remaining lime for the salsa and chipotle sour cream.
Prepare the mango salsa at least 1 hour or up to 24 hours in advance.
Mix sour cream with 1 tablespoon Chipotle salsa or several dashes hot sauce. (Add more or less according to your taste). Add 1 teaspoon lime juice. Mix well and set aside in refrigerator until ready to serve.
Cook fish according to package directions.
Heat tortillas
Build your taco. To each tortilla, add one  or two fish fillets, Top with chipotle sour cream, mango salsa and shredded cabbage.
Serve with a lime wedge. And, oh yeah- don't forget the margarita.
For Mango Salsa you will need:
1 mango diced
1 jalapeño diced (remove seeds and vein if you don't like the heat)
1/2 cup cucumber diced
1/3 cup red onion diced
2 teaspoons lime juice
1/3 cup cilantro chopped
Combine all ingredients and refrigerate for at least one hour or overnight.