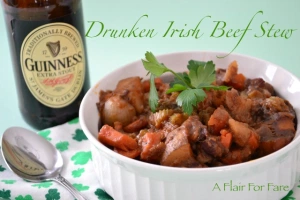 adapted from thelittlekitchen.net
With St. Paddy's just around the corner, I've been looking for something different than the usual corned beef and cabbage, which really isn't Irish at all. This slow cooker recipe for Irish stew sounded great. It's full of root vegetables, browned stew beef in a rich gravy laced with red wine and dark Guinness Stout that imparts a great depth of flavor to the stew. Now if you're concerned about the name, no worries, the alcohol is removed during the cooking process; you only taste the flavor of the spirits, you will not get drunk!
You'll need:
2 cups baby red potatoes cut into 1/2-inch pieces
2 cups russet potatoes cut into 1/2 inch pieces
1 and 1/2 cups celery, medium sliced
2 cups carrots, peeled and medium sliced
2 cups pearl onions
2 Tbsp extra-virgin olive oil
1 3/4 pounds stew beef, cut into 1-inch pieces
3 garlic cloves, minced
2 Tbsp butter
2 cups beef broth
1 cup good red wine (Cabernet Savignon)
3/4 cup Guinness Stout Beer
2 Tbsp tomato paste
1 Tbsp white sugar
1 Tbsp soy sauce
1/2 Tbsp dried thyme
2 bay leaves
1 tablespoon water mixed with 1 tablespoon cornstarch
Salt and Pepper to taste
1 cup flour for dredging
Add all of the cut up vegetables (carrots, celery, potatoes and onions) to the crock pot and set aside.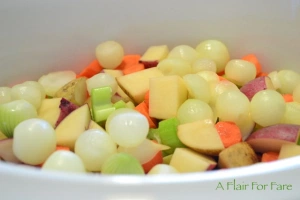 Add olive oil to a heavy bottomed sauté pan or dutch oven such as Le Crueset. Salt and pepper the beef and dredge in flour.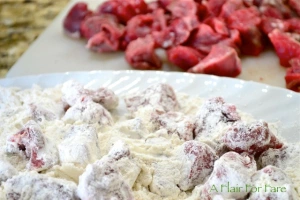 Brown beef over medium high heat in small batches so you get a good crust. Crowding the pan will cause steam and you don't want to steam the beef. Add additional oil as needed.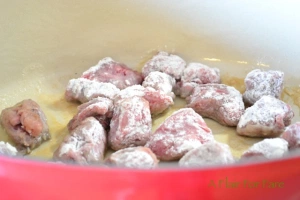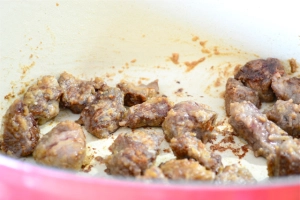 When all of the beef is browned, add to the vegetables in the crock pot.
Lower heat, add butter and garlic and cook for just a minute. Return the heat to medium and add beef broth, wine, beer, tomato paste, soy sauce, sugar, thyme, salt and pepper. Bring to a boil then lower heat and simmer uncovered for about 10 minutes. Add cornstarch paste and stir. Pour over beef and vegetables. Add bay leaves.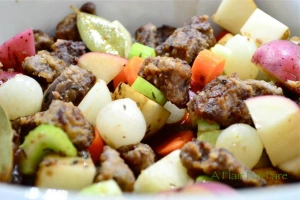 Cook on high for 4-5 hours or low 6-7 hours until vegetables are tender, stirring occasionally. Taste for seasonings, add more salt and pepper if needed. Remove the bay leaves and any fat that has accumulated on top of the stew and serve.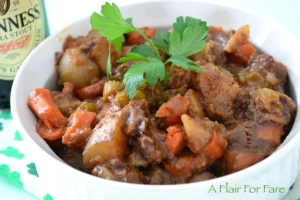 Now should you decide to finish off the left over Guinness and wine, remember to always drink responsibly; especially when chopping vegetables.