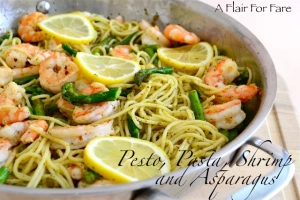 Pesto and pasta is a great combination and during the summer months I love to make fresh pesto with basil from my garden. But summer is still months away and with asparagus in season and so reasonably priced at the grocery store, this recipe wouldn't wait. A store bought jar of pesto works just fine for this lemony fresh pasta creation and saves time in the kitchen too.
Pesto, Pasta, Shrimp and Asparagus
Inspired by recipe for Pasta, Shrimp, Asparagus and Basil
Good-Housekeeping, May 1994 issue
You will need:
8 oz. spaghetti
1/3 cup store bought pesto
1/4 cup fresh lemon juice
1 lemon sliced
1 tablespoon olive oil
1 lb. asparagus, cut on the diagonal, into two inch pieces
1 lb. large shrimp, shelled and deveined
1/8 teaspoon crushed red pepper or more if you like the heat
1/4 teaspoon salt
1/4 teaspoon freshly ground pepper
Cook pasta according to package directions.
Add olive oil to a large non skillet over medium heat. Season the shrimp with salt, black and red pepper and sauté until pink, just for about 3 minutes per side. Do not overcook. Remove shrimp from pan and set aside.
Add asparagus to pan and cook until crisp tender. Add lemon juice.
Drain spaghetti and add to asparagus. Toss with pesto. Add shrimp back in with lemon slices and toss again.
Makes 4 servings.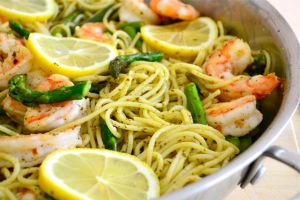 To make fresh Pesto add the ingredients listed below to a food processor or blender and process until smooth.
1 cup packed fresh basil leaves
2 garlic cloves
1/4 cup fresh lemon juice
1 tablespoon olive oil
1/2 teaspoon salt