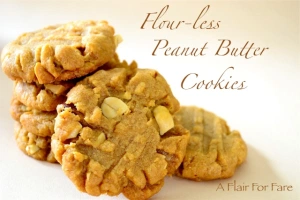 Here's a fast and fabulous flour-less cookie from Kraft that you can whip up in no time. It takes just a few ingredients that we all have on hand. This recipe only makes about 20 cookies so you might want to double it up. Pour yourself a glass of milk and enjoy!
Flour-less Peanut Butter Cookies
1 cup peanut butter
1 cup sugar
1/2 cup chopped cocktail peanuts
1 large egg
1 teaspoon vanilla
Preheat oven to 350°F. In a medium size mixing bowl beat egg until foamy. Add sugar, peanut butter and vanilla and mix well. Stir in chopped peanuts.
Line a cookie sheet with parchment paper or a silpat. Use a tablespoon or cookie scoop and make 1 1/4 inch balls. Press down with the tines of a fork in a criss cross pattern. Place cookies 2 inches apart.
Bake 10-12 minutes, until very lightly browned. Cool on baking sheet for 2 minutes then transfer to a wire rack and cool completely.