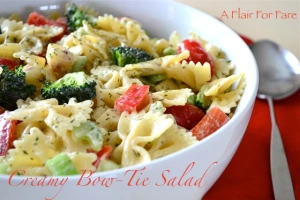 For the first time in what seems forever, the temps hit the high 70's here in Chicagoland. It's just a spring teaser with a colder week on the way, so we're soaking up all the warmth we can today and pulling out the grill for steaks and pairing them up with a summer pasta salad.
Summer pasta salads are wonderful because you can make them any way you want with whatever you have on hand and they go great with just about anything you grill or BBQ.
Creamy Bow-Tie Salad
Ingredients:
1/2 pound bow-tie pasta (Farfalle)
1/2 large red bell pepper cut into bite size pieces
1 cup broccoli florets
1 pint cherry or grape tomatoes, halved
1 large stalk celery halved lengthwise and sliced into bite size pieces
3/4 cup sharp white cheddar cubed
2 teaspoons dijon mustard
Fresh or dried dill
Salt and pepper
Ranch dressing
Directions:
Cook pasta according to package directions. Drain in a colander and set aside to cool. Toss a few times; do not rinse.
Cut up vegetables and cheese. Add cooled pasta and vegetables to a large mixing bowl. Start with about a 1/2 cup of the ranch dressing and toss well. Add dijon and more ranch dressing if needed until the pasta is well coated and a creamy consistency. Add a 1/2 teaspoon dill and add salt and pepper to taste. Add cheese and stir in. Transfer to a serving bowl, cover and chill in refrigerator for at least an hour. Serve as a side or main dish.