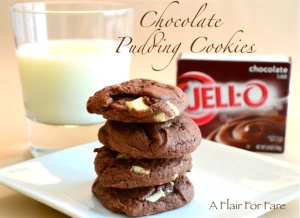 These cookies were a big hit with friends and family. The chocolate pudding mix gives this soft and chewy cookie a very subtle, chocolate flavor that marries well with the white chocolate. You'll want to grab a glass of milk and start dunking.
Chocolate Pudding Cookies – ( Adapted from recipe by Kraft )
1 cup  butter, softened
1 cup  packed brown sugar
1 package (3.9 oz.) JELL-O Chocolate Instant Pudding
2 eggs
1 teaspoon baking soda
2 cups  flour
1-1/2 packages (4 oz. each) BAKER'S White Chocolate, chopped or 6 ounces white chocolate chips.
Heat oven to 350°F.
In a large mixing bowl, beat butter and sugar with a heavy duty mixer; add eggs and continue to beat until light and fluffy.
Add in pudding mix and combine until well blended. Gradually add flour and baking soda, mix until well blended. Stir in white chocolate.
Using a cookie scoop or spoon, roll dough into 1 and 1/2 inch balls and drop 2 inches apart onto a baking sheet lined with parchment paper or a silpat.
Bake 10 minutes; cookies will be soft. Cool for a minute on baking sheets, then move to wire racks to cool completely. Makes about 3 dozen cookies.