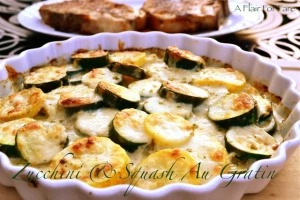 It's that time of year when gardens are overflowing with squash and everyone is wondering just how much zucchini bread they can make and share with friends and neighbors. Now, I love a good zucchini bread but there are lots of other ways to use summer squash.
We are having a perfect summer day here and we'll be grilling up some pork chops for dinner.  This gratin recipe that I recently pinned sounded like the perfect side for my chops so I decided to give it a whirl.  The directions were somewhat vague; it gave no specific amounts for cheese or the size of baking dish, so I have included the amounts I used. The original recipe calls for a sprinkling of oregano but I used Penzey's Fox Point seasoning which is a combination of salt and freeze dried shallots, chives, garlic, onion and green peppercorns. If you have access to this seasoning, give it a try. I use it on all of my sautéed vegetables and in eggs.  It is available online if you don't have a store nearby.
Zucchini and Squash Au Gratin
Adapted by recipe from Bobbie Seacrist
You will need:
2 tablespoons butter
1 large  or 2 medium zucchini squash, sliced
1 large or 2 medium yellow squash, sliced
2 Shallots ( minced )
1 teaspoon minced garlic
1/2 cup heavy cream
1/2 cup shredded Mozzarella Cheese 
Salt and Pepper to taste
1 teaspoon Penzey's Fox Point seasoning or 1/4 teaspoon dried oregano
Freshly grated Parmesan cheese – 3 tablespoons plus 1/2 cup 
Preheat oven to 450 degrees
Melt butter in a large skillet. Sauté  shallots and garlic over medium heat until softened; 3-5 minutes.
Add sliced squash; salt and pepper to taste. Sauté  for 1 minute.
Add cream and 3 tablespoons grated parmesan. Cook just until squash is barely fork tender; 5-7 minutes.
Transfer to a baking dish ( I used an 8 inch round baking dish). Sprinkle with 1/2 cup parmesan and 1/2 cup shredded mozzarella.
Bake for 15-20 minutes until bubbly and golden brown.