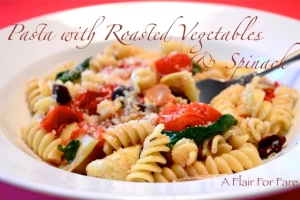 My garden is still producing beautiful, plump, sweet cherry tomatoes and this was the perfect dish to showcase them in. Roasting the vegetables lends incredible flavor to this light, healthy recipe. This is fabulous meal that takes little effort.
Pasta with Roasted Vegetables and Spinach
adapted from Everyday Food – January, 2010
2 pints cherry tomatoes
4 garlic cloves, unpeeled
3 shallots cut into eighths
2 tablespoons fresh thyme leaves
2 tablespoons extra-virgin olive oil
kosher salt and freshly ground pepper
8 ounces rigatoni or spiral pasta
1/3 cup pitted black olives, coarsely chopped
3 cups baby spinach
Spread tomatoes, garlic, shallots and thyme on a rimmed sheet pan and toss with olive oil, salt and pepper. Roast in a  preheated 450 degree oven for 20 to 25 minutes or until garlic is soft and tomatoes have burst.
Cook pasta according to package directions for al dente. Reserve 1/4  cup pasta water. Drain pasta and return to pot. Peel roasted garlic and mash into a paste. Add pasta water, roasted vegetables and olives to pasta. Simmer over medium high heat 3-5 minutes until sauce thickens. Toss in spinach. Serve with freshly grated parmesan if desired. Makes 4 servings.