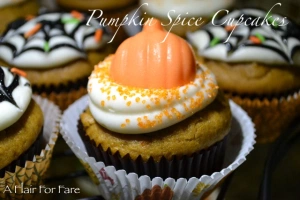 This is an easy semi-homemade recipe that starts with a spice cake mix. Full of pumpkin flavor that screams fall, these cupcakes will be  ideal for your Halloween party or any fall get-together. The sweet cream cheese frosting is the perfect accompaniment to these spicy little cakes.
Pumpkin Spice Cupcakes
adapted from My Baking Addiction
For the cupcakes you will need:
1 box spice cake mix (15-18.25 ounces)
1 3.4 ounce package instant vanilla pudding mix
1 teaspoon pumpkin pie spice
1/2 cup sour cream
1 cup pure pumpkin puree
1/2 cup vegetable oil
3 eggs
2 teaspoons vanilla extract
For the frosting you will need:
2 8 ounce packages cream cheese, softened
1/2 cup unsalted butter, softened
1 1/2 pounds (5 3/4 cups) confectioner's sugar
1 teaspoon vanilla extract
Preheat oven to 350 degrees.
Prepare two 12 cup muffin tins with either paper liners or non stick cooking spray.
Beat eggs in a large mixing bowl using an electric mixer. Add remaining ingredients and mix on medium speed until smooth.
Distribute batter evenly among muffin cups, 1/2 to 3/4 cups full.
Bake for 18-22 minutes. Test for doneness using a toothpick.
Leave cupcakes in baking pan for 10 minutes before transferring to a wire rack. Cool completely.
Prepare Frosting.
A stand mixer works best, but you can use a hand mixer. Beat softened cream cheese on medium high speed until smooth and creamy. Add butter and beat for 3 minutes more. Slowly add in confectioners sugar and beat on low until fully mixed in. Add vanilla and beat for another 3-4 minutes. Frosting should have a light and fluffy consistency.
Frost cupcakes generously when cooled completely. Decorate as you desire.