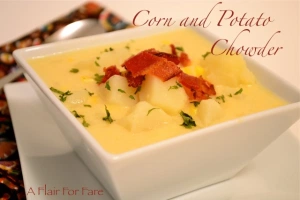 Here's a  savory stew that's perfect for these cold winter nights. Made with simple ingredients that you probably have in your pantry, you'll have a delicious dinner ready in no time.
Corn and Potato Chowder
You will need:
2 tablespoons butter
2 tablespoons all purpose flour
1 cup low fat half & half, warmed in microwave
4 cups low sodium chicken broth, warmed in microwave
1 cup grated sharp cheddar cheese
4 cups diced yukon gold potatoes
2 cups frozen corn
1 small sweet onion diced
2 cloves garlic, minced
1 teaspoon kosher salt
½ teaspoon freshly ground black pepper
¼ teaspoon cayenne pepper
Fresh or dried parsley
6 slices Pork or Turkey bacon, cooked and crumbled
Directions:
Sauté  onion in a large soup pot over medium heat for 4-5 minutes until translucent. Add minced garlic and corn and continue to sauté for 3 additional minutes.
Whisk in flour and cook for 2 minutes, stirring constantly.  Whisk in warmed milk, then add chicken broth, one cup at a time, stirring well after each addition.  Bring heat up to medium-high, then add potatoes. Season with salt, pepper and cayenne. Simmer for 20-25 minutes or until potatoes are tender.
When potatoes are done remove from heat. Stir in cheddar cheese until melted. Spoon into serving bowls and garnish with bacon pieces and parsley, if desired. Serve with cornbread.
Makes 6 servings