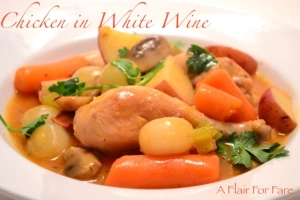 This is not your everyday chicken stew. Tender, succulent chicken and hearty root vegetables bathed in a savory white wine sauce with just a hint of tomato flavor. Comforting, warm and satisfying.  Add a side salad and crusty hot rolls for the perfect Sunday dinner.
Chicken in White Wine
recipe adapted from Weight Watchers One Pot Cookbook
3 slices bacon, chopped * see note
1 (3 1/2-pound) chicken, cut into 8 pieces and skinned or a combination of your favorite parts (legs, thighs, breast)
1 onion, chopped
2 celery stalks, sliced
3 garlic cloves, minced
1 tablespoon tomato paste
1/2 pound white button mushrooms, sliced
1 cup fresh or frozen small baby onions
1 (14 1/2-ounce) can reduced-sodium chicken broth
1 cup dry white wine (do not use "cooking" wine)
1/2 pound small red potatoes, scrubbed and quartered
4 carrots, cut into 2-inch lengths
2 tablespoons all-purpose flour
2 tablespoons water
2 tablespoons chopped fresh parsley
If you have a non-stick Dutch oven, you can cook everything in one pot. Otherwise, cook bacon and chicken in a skillet and prepare the rest in a soup pot.
Cook bacon until crisp. Remove bacon and set aside. (*Note: original recipe calls for turkey bacon. I found this did not produce enough fat for cooking the chicken, so I used regular bacon.)
Over medium high heat, add chicken in several batches and cook until lightly browned. Set cooked chicken aside.
Reduce heat and sauté chopped onion, celery, garlic and mushrooms 8-10 minutes. Mushrooms should be lightly browned.  Stir in tomato paste. Add broth and wine and bring to a simmer. Add onions, potatoes and carrots and bring to a boil. Add chicken and bacon back in, reduce to a simmer and cover. Continue to cook until vegetables are tender and chicken is done. (165 degrees on an instant read thermometer)
In a small bowl, whisk flour and water together to make a slurry. Stir in 1/4 cup of the hot stew liquid. Pour into pot and stir in well. Cook for a few minutes until stew bubbles and thickens. Serve with chopped fresh parsley.
Tip: Buy tomato paste in a tube to eliminate waste. If you don't drink dry wine, purchase the small, individual serving size bottles for cooking.