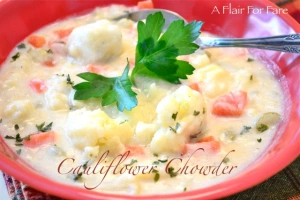 If you're looking for a low carb alternative to potato soup, this may be it.  Full of healthy vegetables, I added cheese, half and half, cayenne and my favorite vegetable seasoning to the original recipe for added creaminess and flavor.
Cheesy Cauliflower Chowder
adapted from Damn Delicious
2 tablespoons unsalted butter
2 cloves garlic, minced
1 small onion, diced
2 medium carrots, peeled and diced
2 medium stalks celery, diced
1/4 cup all-purpose flour
4 cups low sodium chicken broth
1 cup low fat half and half
1 medium sized head cauliflower, roughly chopped
1 bay leaf
Kosher salt and freshly ground black pepper, to your taste
1/4 teaspoon cayenne pepper
2 tablespoons chopped fresh parsley leaves
1/2 cup sharp grated cheese
1/2 teaspoon Penzey's Fox Point Seasoning (optional)
Saute garlic, onion, carrots and celery in melted butter in a large soup pot over medium heat until tender. Add chopped cauliflower and bay leaf. Continue to sauté for about 3 minutes, until cauliflower is at the al dente stage. Do not overcook or cauliflower will be mushy.
Add in flour and stir in for about 1 minute, until flour is cooked. Add half and half and broth and stir until slightly thickened. Increase to high heat and bring to a boil. Once boiling, reduce heat to low and simmer until cauliflower is tender, about 10 minutes.  Season with salt and pepper to taste. Because the size of the vegetables will vary, you may want to add additional half and half if soup is too thick.
Fox Point seasoning  is a vegetable seasoning made of salt, dried shallots, chives, garlic, onion and green peppercorns that adds great flavor. Fox Point is available online if you don't have a Penzey's store in your area. There are similar seasonings in your grocery store. Experiment with your favorite seasonings to get the results you are looking for.
Add chopped parsley and serve. Makes 6 servings.