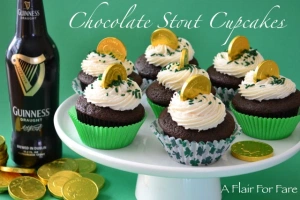 It's St. Paddy's time and we've been boozing up the stew, so we might as well do the same with dessert. Maybe that's why Irish eyes are always smiling 🙂
You'll find lots of variations on this recipe out there; my niece Priscilla shared this one with me a few years ago. The flavors are amazing and everyone that I have shared these cupcakes with raves about them. The stout, which has undertones of chocolate and coffee, gives the cake great depth of flavor. The Irish whiskey and Baileys also gives the cupcake a distinctive flavor without being over-powering. And if you're not a whiskey, Baileys drinking kinda guy or gal, you can purchase the mini airline size bottles from the liquor store. Some stores may also have single bottles of Guinness on hand.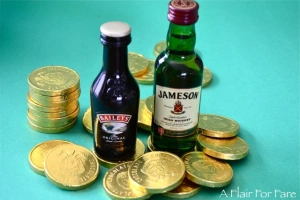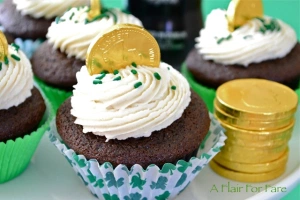 Chocolate Stout Cupcakes with Jameson Ganache Filling and Baileys Frosting
adapted from Confessions of a Tart
Makes 24 cupcakes
For the Cupcakes you will need:
1 cup Guinness stout
1 cup (2 sticks) unsalted butter
3/4 cup unsweetened cocoa powder
2 cups all purpose flour
2 cups sugar
1 1/2 teaspoons baking soda
3/4 teaspoon salt
2 large eggs
2/3 cup sour cream
For the filling you will need:
8 ounces bittersweet chocolate
2/3 cup heavy whipping cream
2 tablespoons butter, room temperature
2 teaspoons Irish whiskey (I used Jameson)
For the frosting you will need:
4 cups confections sugar
1 and 1/2 sticks unsalted butter, at room temperature
4 tablespoons Baileys Irish Cream
1/4 cup heavy whipping cream
Preheat oven to 350°F. Line two 12 cup cupcake pans with 24 cupcake liners.
To make the cupcakes:
In a small saucepan over medium heat, combine the Guinness with 2 sticks butter. Bring to a simmer, then whisk in the cocoa powder until smooth. Set aside to cool.
Add flour, sugar, baking soda and salt to a large bowl. Mix well and set aside.
In a mixer bowl, beat the eggs and the sour cream. Slowly add the cooled chocolate mixture and beat to combine. Slowly add the flour mixture a little at a time and beat just until blended. Be sure the flour mixture is blended in well. Use a spatula and stir if needed.
Fill the cupcake liners 2/3 full. Bake for about 20 minutes, or until a toothpick inserted into the middle of a cupcake comes out clean. Cool completely.
For the filling, break up the chocolate and place in a heatproof bowl. Heat the cream just until simmering and pour it over the chocolate. Let it sit a couple of minutes until chocolate starts to soften and then stir until smooth. Add the butter and whiskey and stir until smooth again. Let the ganache cool to a thick consistency, but not too firm to pipe it.
To fill the cupcakes:
Cut out the centers of the cupcakes, using an apple corer. Go down about an inch and a quarter into the cupcake. The cake plugs will push out of the apple corer easily just using your finger.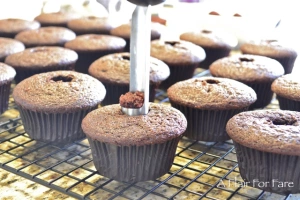 Fill a piping bag with the ganache and fill each cupcake.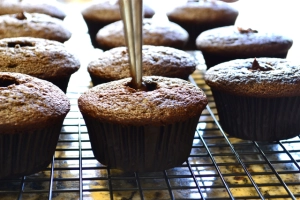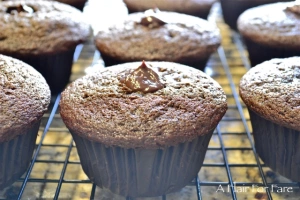 To Make the frosting:
In a large mixer bowl, whip the butter for several minutes until fluffy. Slowly add the powdered sugar and beat. Add the Baileys and heavy cream. Frosting will be on the firmer side. Spread or pipe onto cupcakes and decorate as desired.