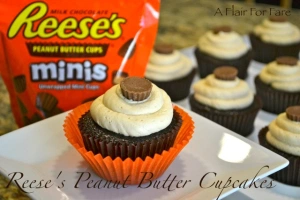 A peanut butter lover's delight! Deep dark chocolate cake with a whipped peanut butter filling and topped with peanut butter buttercream. If you are a fan of the peanut butter cup, you will love this cupcake.
For  the cupcakes:
Hershey's Deep Dark Chocolate Cake recipe:
1 and 3/4 cups unsifted all purpose flour
2 cups sugar
3/4 cup Hershey's cocoa
1 and 1/2 teaspoons baking soda
1 and 1/2 teaspoons baking powder
1 teaspoon salt
2 eggs
1 cup milk
1/2 cup vegetable oil
2 teaspoons good vanilla extract
1 cup boiling water
Combine dry ingredients in a large mixing bowl. Add remaining ingredients except boiling water; beat at medium speed 2 minutes Remove from mixer; stir in boiling water (batter will be thin)
Using a 1/4 cup measuring scoop, fill cupcake tin lined with brown wrappers,  3/4 full.
Bake at 350 degrees for 15-20 minutes; test with a toothpick
For the filling:
6 ounces Reese's peanut butter chips
1/2 cup heavy whipping cream
Combine chips and cream in a heatproof bowl , set over a pot of simmering ( not boiling) water. Stir until melted. Remove bowl and let cool, refrigerate for 10 minutes or so until set. Whip with a mixer until fluffy. Add more cream if needed until desired consistency.
Transfer to a pastry bag fitted with a filling tip. Insert into middle of cupcake and fill.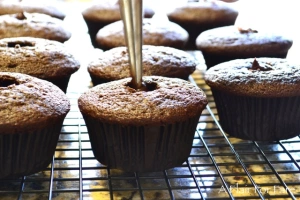 For the frosting:
2 sticks unsalted butter at room temperature
1/2 cup smooth peanut butter
4 cups sifted confectioners sugar
3-4 tablespoons milk
Beat butter and peanut butter together until combined. Add sugar, one cup at a time until smooth. Add milk as needed. Transfer to a pastry bag fitted with large round tip.  Pipe peaks onto each cupcake. Top with mini peanut butter cup.