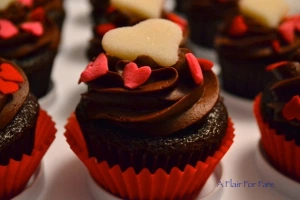 This recipe has been my go to chocolate cake and cupcake recipe for years. It's very chocolatey and extremely moist and everyone loves it. Most hesitate to ask me for the recipe, thinking it's a huge family secret that I won't want to give up. Little did they know it was practically under their noses, in their pantry, right there on the Hershey Cocoa box. Pair it with any frosting; vanilla, chocolate or cream cheese and it will never disappoint. It is truly "Perfectly Chocolate" cake.
Here's my perfectly chocolate cupcake, all dressed up for Valentine's Day.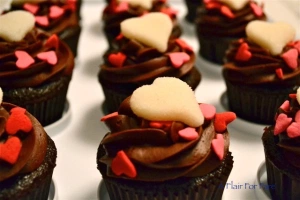 Hershey's Perfectly Chocolate Cake
2 cups sugar
1- 3/4 cups all-purpose flour
3/4 cup Hershey's Cocoa
1-1/2 teaspoons baking powder
1-1/2 teaspoons baking soda
1 teaspoons salt
2 eggs
1 cup milk
1/2 cup vegetable oil
2 teaspoons vanilla extract
1 cup boiling water
Directions:
1. Heat oven to 350°F. Line 2 cupcake pans with cupcake liners.
2. Stir together sugar, flour, cocoa, baking powder, baking soda and salt in large bowl. Add eggs, milk, oil and vanilla; beat on medium speed of mixer 2 minutes. Stir in boiling water (batter will be thin). Fill each cup about 2/3 cup full
3. Bake for 15-20 minutes or until wooden pick inserted in center comes out clean. Cool 10 minutes; remove from pans to wire racks. Cool completely. Frost with "Perfectly Chocolate" Chocolate Frosting, decorate as you desire.
"PERFECTLY CHOCOLATE" CHOCOLATE FROSTING
1/2 cup (1 stick) butter or margarine
2/3 cup HERSHEY'S Cocoa
3 cups powdered sugar
1/3 cup milk
1 teaspoon vanilla extract
Melt butter. Stir in cocoa. Alternately add powdered sugar and milk, beating to spreading consistency.
Add small amount additional milk, if needed. Stir in vanilla. About 2 cups frosting. Note: to pipe the frosting add additional powdered sugar until you reach a thicker consistency needed for piping. You will need to double the recipe if you want to pipe high swirls.