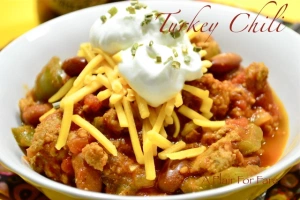 Back during my college days I had a part time job working at a record shop in Woodfield Mall in Schaumburg, Illinois. At that time it was the largest mall in the United States. Newly transplanted from a tiny town in south Alabama, I was quite overwhelmed by it vastness. There were so many stores and restaurants to choose from. I would often have lunch at a quaint little place called "Tidbits". I distinctly remember their chili; it had just the right amount of spice and lots of chunky green peppers. Many years later, it was the inspiration for my own recipe.
There must be a zillion ways to make chili. I think we all start with a recipe we borrowed and make adjustments to suit our own tastes. I use ground turkey to save on fat calories, but you can certainly use beef. My recipe has a medium amount of spice; feel free to add more cayenne if you want to dial up the heat.
You will need:
1 pound lean ground Turkey
1- 14 ½ ounce cans Chili Beans or Red Kidney Beans
2- 14 ½ ounce cans diced tomatoes
3- 8 ounce cans tomato sauce
1 green bell pepper sliced into large pieces
½ large yellow onion or 1 small yellow onion diced
2 cloves garlic minced
½ teaspoon oregano
½ teaspoon red pepper flakes
½ teaspoon kosher salt
1 teaspoon chili powder
1/2 tsp cayenne pepper
1 tablespoon olive oil
Saute onion and garlic in oil until softened. Add tomatoes, tomato sauce, green pepper and spices. Simmer over low heat.
Brown ground turkey. Leave in large chunks. Add to tomato mixture and continue to simmer for 20-30 minutes, or until green pepper is tender.
Serve alone or over your favorite pasta shells . Top with jack or cheddar cheese. Serves 6.