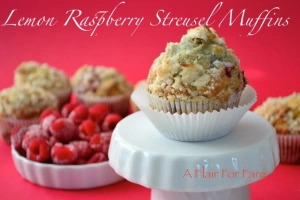 This delicate muffin gets it's tang from lemon yogurt and lemon zest. Paired with sweet raspberries, it's fresh and fruity with a subtle tart flavor. Great for breakfast or just for snacking.
Lemon Raspberry Streusel Muffins
(Recipe from Pillsbury's Complete Book of Baking)
Makes 14 regular size muffins
For the muffins you will need:
2 cups flour
1/2 cup sugar
2 teaspoons baking powder
1/2 teaspoon baking soda
1/2 teaspoon salt
1- 8 ounce container lemon yogurt
1/2 cup oil
1 teaspoon grated lemon peel
2 eggs
1 cup fresh or frozen raspberries (do not thaw)
For the topping you will need:
1/2 cup sugar
1/4 cup flour
2 tablespoons butter
1/3 cup sliced almonds
Heat oven to 400 degrees. Line muffin tins with paper liners or spray wells with Pam. In large bowl, combine 2 cups flour, 1/2 cup sugar, baking powder, baking soda and salt; mix well. In small bowl, combine yogurt, oil, lemon peel and eggs; mix well. Add to dry ingredients; stir just until dry ingredients are moistened. Gently stir in raspberries. Fill muffin cups 3/4 full.
In small bowl, combine 1/2 cup sugar and 1/4 cup flour. Using pastry blender or fork, cut in butter until crumbly. Add sliced almonds. Sprinkle over batter.
Bake at 400 degrees for 15 to 20 minutes or until light golden brown and toothpick inserted in center comes out clean. Cool 5 minutes, remove from pan onto a wire rack to continue cooling.