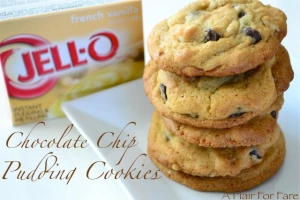 I heard about this recipe from my daughter-in-law Laura. She is quite an accomplished cookie baker and she makes these often. The recipe comes from Kraft, but they call them "Not Just for Santa Cookies". Whatever you want to call them, they will knock your socks off! Made with instant vanilla pudding mix, they are so moist and chewy, they melt in your mouth. The recipe is very versatile. You can add dried cherries or cranberries, use white, dark or semi-sweet chips. Sometimes I like to use coconut oil for a healthier option in place of butter. It also gives a wonderfully subtle coconut flavor to the cookie.
Today I used butter, 6 ounces of white chocolate chips, 6 ounces of dark chocolate chips and a cup of chopped walnuts. I baked half the recipe and froze the rest. To freeze, I roll the dough into balls and place on a cookie sheet and into the freezer until frozen solid, then move them to a freezer bag for storage. They can be baked frozen or thawed.
Chocolate Chip Pudding Cookies (Kraft)
2 1/4 cup flour
1 tsp. baking soda
1 cup softened butter
1/4 cup sugar
3/4 cup firmly packed brown sugar
1 tsp. vanilla
1 pkg. (4 oz. serving) instant vanilla pudding
2 eggs
1 package (12 ounces) chocolate chips
1 cup chopped walnuts or pecans
Combine butter, the sugars, vanilla and pudding mix in large bowl. Beat until creamy. Then beat in eggs. Gradually add flour, soda, chips and nuts. Batter will be stiff. I use a small cookie scoop which is about a tablespoon, heaping full. Place about 2 inches apart on cookie sheet lined with parchment paper.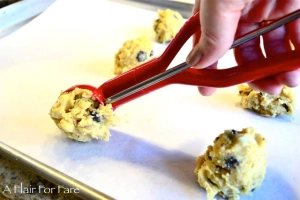 Bake at 375 degrees for 10 minutes. Makes about 36 cookies.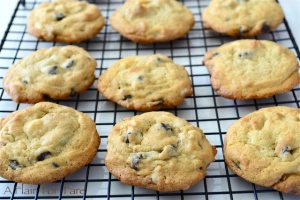 Warm, crispy, gooey. Who could resist?